All About Abelia, Weigela and Spirea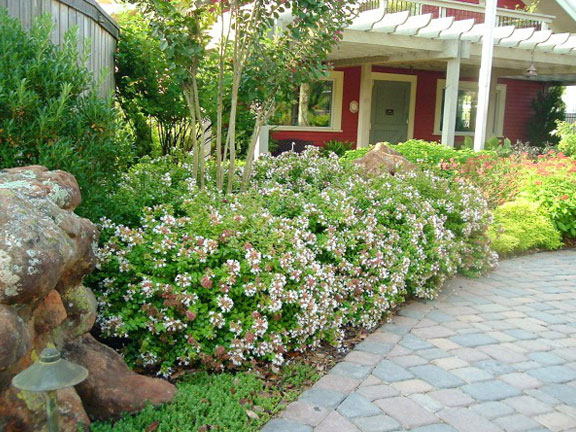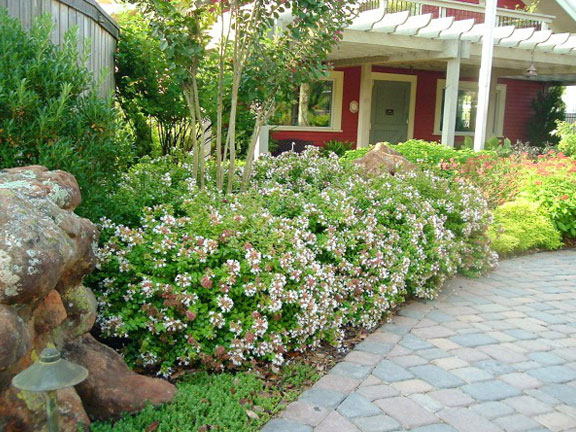 Abelia
Abelias are one of those "what's old is new again" or "oldie-but-goodie" shrubs that have been around for so long that they're both tried-and-true and new and exciting. Amazingly, gardeners have been enjoying Abelia for over a century, but only in the past decade or so have compact and variegated forms really taken the spotlight. Why do we like them so much? They're very trouble-free, rarely contacting disease or pest issues. Their other winning traits are fragrant flowers (it's light, but detectable) with a long bloom time, being semi-evergreen (which means evergreen in mild winters and not in cold winters) and being decently distasteful to deer. The plant in my yard receives less than full sun and starts blooming about a month after those in full sun do, but still cranks out flowers until early autumn.
I'm one of those people who prefers shrubs in their natural shape rather than "meatballed" into something perfectly rounded and formal, but for those of you that prefer a restrained look, Abelias respond well to shearing. Do the trimming around late winter or early spring so you don't delay the summer flowers. Typically the only wayward growth is the odd branch that's an over-achiever and grows about twice the rate of all the branches around it; it gives the shrub something of a "bad hair day" look or of having multiple antennae. If they bother you, they're easily nipped off with a pair of hand pruners.
Foliage is not always a trait people grow flowering shrubs for – after all, that's why we call them flowering shrubs – but there are several varieties of Abelia on the market nowadays that boast really pretty multi-hued leaves. The current favorite is 'Kaleidoscope' with its lime, yellow and orange-edged leaves; 'Mardi Gras' is another variety we like that has more subdued hues of butter, cream and pink. What do you pair such multi-hued plants with that won't clash? I like the red-purple or red-orange foliage of barberry (the non-invasive kinds, of course) or the blue leaves of 'Blue Shadow' fothergilla or a dwarf blue spruce. Dark green, certainly, is always a good foil for such brightness, as is a different texture like the feathery appearance of conifers like juniper or yew.
Weigela
"Why gee la?" Why not? (That's the way I remember how to pronounce weigela – there are so many variations!) By any name, though, they're pretty useful shrubs. Flowers are at peak now in late spring, covering the branches with loads of funnel-shaped flowers in white, pink or red. Many varieties on the market now have colorful foliage – washes of purple, margins of buttery yellow, or cream with blushes of pink. In autumn, all but the purple-leaved forms sport nice colors in the red-orange range. One nice trick is to give older plants a bit of a trim after the flowers have faded; it not only rejuvenates them and tweaks their shape a bit but they will often re-bloom after a few weeks recovery. Not many shrubs will do that! Plus, hummingbirds like the flower shape on weigela, so hopefully yours will be visited by those hyper beauties.
As with Abelia, I'm fond of pairing Weigela with other foliage colors and textures to get the most out of each season. Purple-leaved types look really nice with blue, silver or white-edged foliage; don't forget grasses, too, as great companions for creating a mix that's visually appealing and needing minimal care. Red Fountain Grass is an annual that echoes beautifully the color in the purplish weigela, and perennial Panicum varieties that are blue-green in summer and turn red-purple late in the season are also great for providing color blends and echoes. If you want to go with more of a stark contrast in colors, rather than a subdued harmony, try something like a yellow-leaved spirea, juniper or creeping sedum.
Spirea
Spirea, like Weigela and Abelia, has undergone an explosion of new varieties in the past decade. Many have been developed for improved foliage interest, such as colorful new growth, which is at its most intense in spring. Flower color is pretty much limited to white and pink (the "red"-flowering ones are really dark reddish-pink, not truly red, though it is a nice change of pace), but Spirea have the pleasing habit of re-blooming into summer, especially if given a light trim to remove the spent flowers. There's great diversity in Spirea, with some that grow taller than we are and others that stay quite short; leaf colors ranging from blue-green to bright yellow to red-tipped; spring-bloomers and summer bloomers.
Most are of Asian origin, but we stock the native species when we can find them, and this spring we've managed to get a few of both eastern species. Pollinators enjoy Spirea, though it's not one of their top-ten choices; thankfully, it's not high on the list of choices for deer, either. Like Abeila and Weigela, they can be long-lived and ask for very little in return for providing so much to the garden.